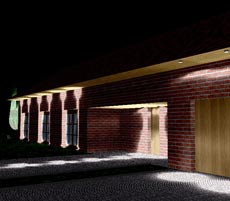 Lighting consultancy
Conception Luminance innovates in setting in light and proposes solutions adaptable in every interior or exterior project.
Each lighting project is studied to optimize light and minimize electricity consumption all while adapting with the physical, visual and economical constraints.
Specialized in LED lighting, Conception Luminance will let you imagine the imaginable due to its low congestion and increasing power, and will therefore offer you new perspectives and even more creative and innovative lighting solutions
To calculate the levels of lighting, brightness, uniform (a good uniform of light improves the visual wellbeing), luminance (light across a surface); all these elements, indispensable towards the comfort of your home and working place, will determine the visual effort and consumption needed to making your home/working place into a natural and beautiful place.
To determine the source (types of lamps), the colour, the position of the apparel and the functions coordinating with the architecture, visuals, economic and financial needs.
Helping in choosing the light appropriate as to marry the environment and objects present in it.
To develop a building, play with structures, light up the night, create a new background and landscape, creating a new identity for a space.
Securing a parking, an entry or helping to direct people towards a space
Outlining trees, its leaves and creating a dome of light beneath its leafy parasol
Increasing visual comfort for customers, but also securing more productivity
In a shop, increasing the chance of selling a product by advertising with light
Creating the right atmosphere (romantic, festive, dramatic)
Stimulate emotion due to colour and shadows
A functional light, which is helpful for normal building and help with security and energy consumption, eg: work place.
A light of atmosphere that can create a more settling environment eg; restaurant.
Lighting up an important aspect of a place, eg; a monument.
Lighting up for festivals with colour and variation of shadows.
Etc…
Documentation
Lighting design 3D
The design of virtual lighting enables the reconstitution of 2D and 3D lighting plans. This tool facilitates the made visual and helps to calculate judiciously the quantities of lighting needed. In addition, it will allow you to visualize the lighting in its ensemble and offers you a realistic image of your future project.